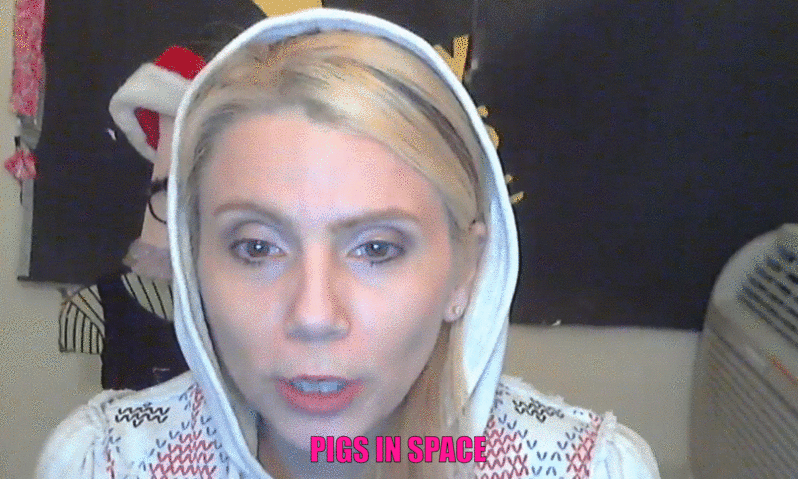 To begin, by eight o'clock of January 2th, I watched Krissy's Vaughnlive channel.
During her cast, Krissy had OBS problems.
"Ok, let me try that. Thank you, Mark," she smiled.
Initially, she had to restart her cast during the show.
"Ok, I'm stop the cast and retry," Krissy said. "Ok, l will restart. Brb," Krissy added.
Inside her channel, Krissy was irritated after restarting.
"Fuck!" she cried. "Okay did it pickup?..I'm just irritated by the whole thing. I just don't care anymore."
Moreover, she had technical issues from casting.
"My bit rate? What did he say? Hang on," Krissy said.

During her cast, Krissy couldn't keep up with chat in her channel.
"No one else write anything. I need to read that again," she pleaded.
After numerous technical issues, Krissy wasn't deterred from trying to get her channel working.
"I don't know whats that suppose to mean but…," she spoke.
Furthermore, Krissy had internet, which was slow as a turtle.
"I could put my router in wall but its not going to do anything. If I sit very still…I might as well just blow bubbles so it will get to you faster," she stated. "This is worst than dial up. This is like postal mail speed."
She didn't even have internet speed.
"The needle isn't even moving. Download speed is 1.5 which is nothing. My upload speed is 2.5. It's trying to connect. The needle is struggling. It's like 0.6. It's just barely 1 which is nothing…1.3," Krissy relayed.
She visited www.Speedtest.net.
"I'm frozen, but that's fine. I know that's not a good speed. My Speedtest. Yeah, I been there twice. I definitely know its not working well," she lamented.
To comment, Krissy took forever to read chat.
"By the time the screen shot loads, I can't…I know what he meant…I just have to find the settings," she replied.
After much despair, Krissy continued to press on for hours.
"Takes my page a millions years to….Let me write this down…Where's my joke book," she insisted.
All she wanted was to visit, so Krissy thanked Mark because she wanted to see him.
"Thank you, Mark…I would of like to catch up," she said. "Most of the people left, ok!"
Furthermore, Krissy looked terrible as she casted.
"My eyes look crossy. They look pixelated. I looked fucked up though I'm not. I look so fucked up but I'm not," she explained.
Further, Krissy didn't reject Mark from Vaughnlive.
"I didn't reject Mark. Mark helped me," she pleaded.
Aside, after one month at her other place, Krissy moved again.
"I moved New year's eve. I never went out," she pointed out.
That being said Krissy was in a conference call which mean Krissy smokes weed; however, a chatter didn't understand what a conference means.
"Time for a conference. Lets play some reggae music. Will it load up?" she giggled. "What does conference call mean? How long have you been with us, SirMike?"
Nonetheless, Krissy had farts, and she had no jokes.
"I know you can't smell it but i have farts. I need to confess some farts. I had a lot of spinach today," she laughed. "I want to tell jokes, but this is obviously not a good time for that!"
In the end, Krissy talked about a creepy guy from her online dating site.
"I just checked my online dating site profile. Some guy wrote me and said 'Hi, I'm Daddy!' I never said hello to the guy," she laughed.