I took a listen to Twenty One Pilot's "Stressed Out" on October 21, 2016-loved it.
While this song was about "stress," I felt the singer was paralyzed by fear, which I can relate to these days.
"I was told when I get older all my fears would shrink," rapped Twenty One Pilots, "but now I'm insecure and I care what people think." Actually, it's just better to do than think–in my opinion.
Though stress can be a problem, the singer raps about hard times, which is another problem in itself.
"Wish we could turn back time, to the good ol' days," the singer remembers, "when our momma sang us to sleep but now we're stressed out (oh)." Damn, there's just too many problems these days!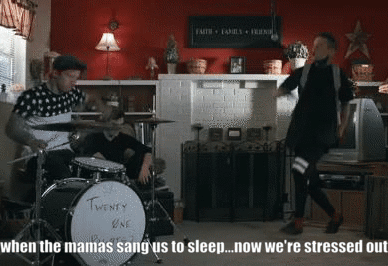 While hard times can be a problem, student loans can be a problem too.
"But it would remind us of when nothing really mattered," said the singer. "Out of student loans and tree house homes we all would take the latter." Man, life shouldn't be this stressful–should it?
Although life has it's ups and downs, I, too, remember building many rockets ships in the backyard like the Twenty One Pilots.
"We used to play pretend, give each other different names," the singer recalls. "We would build a rocket ship and then we'd fly it far away." But that seems like another lifetime ago in a galaxy far away.