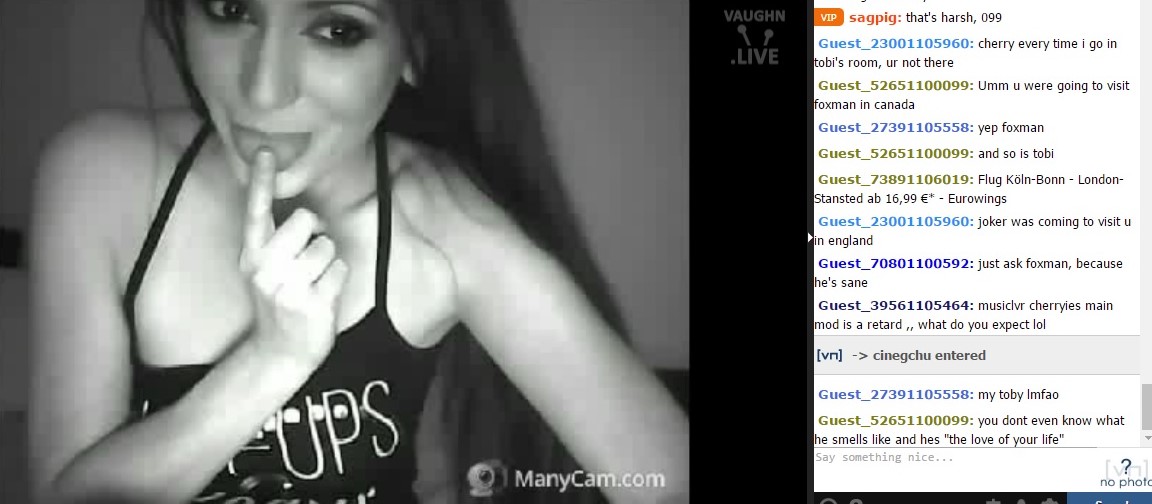 On Friday, September 30, at 3 a.m in the early morning, I started watching Cherrybreeze, a broadcaster that does a live stream on Vaughnlive.
As if things couldn't be any more hectic to start off the morning, she was crying that she can't even pay her bills because she's desparate–I hope this is not another troll.
"When I get my money it goes all on my bills and its gone," she spoke.
However, the chat had some suggestions as to how to pay the bills.
"I'm a 3 jobber, too," suggested Sagpig.
While working more jobs was an answer, working more hours was another way.
"I am working 60 hours a week at moment," moderator Musicluvr suggested.
Though totally broke and destitute, Cherrybreeze has to sell things because she's hit rock bottom–we've all been here.
"I have to sell my couch," she winced.
Further, Cherrybreeze has money problems–I know what you mean–and its effecting her love life after all these hardships.
"And you know what, I could lose the love of my life," she cried, "from not being able to get to Germany. I can only put ten pound away every two weeks for Germany. He keeps saying, 'Are you coming to Germany?'"
Additionally, she has to sell everything just to get money, which is horrible.
"I cannot just get this money from anywhere. I have to sell things," she said.
Meanwhile, another chatter suggested financial help from the state.
"Germany has some pretty sweet social welfare programs," typed Guest_70801100592.
While being broke and struggling, Cherrybreeze is suffering as far as I know–she sounds like she's dying to be honest.
"But cut me some slack, I'm struggling," said Cherrybreeze.
Furthermore, she is getting old–me too–from all these bad things.
"My hair is going grey," she cried.
If getting old wasn't enough, Cherrybreeze is in debt, and she can't pay her bills–and I'm just worried about paying my internet bill.
"I put myself in debt with my estate agent," she confessed.
As a result of all this hardship, she's out of money insofar as we know–I'm willing to give her the benefit of doubt.
"i cannot sell anything else. I have nothing to sell," sobbed Cherrybreeze.
Though somewhat saddened by all the suffering so early in the morning, it was an eye opener to see people casting even though in misery.