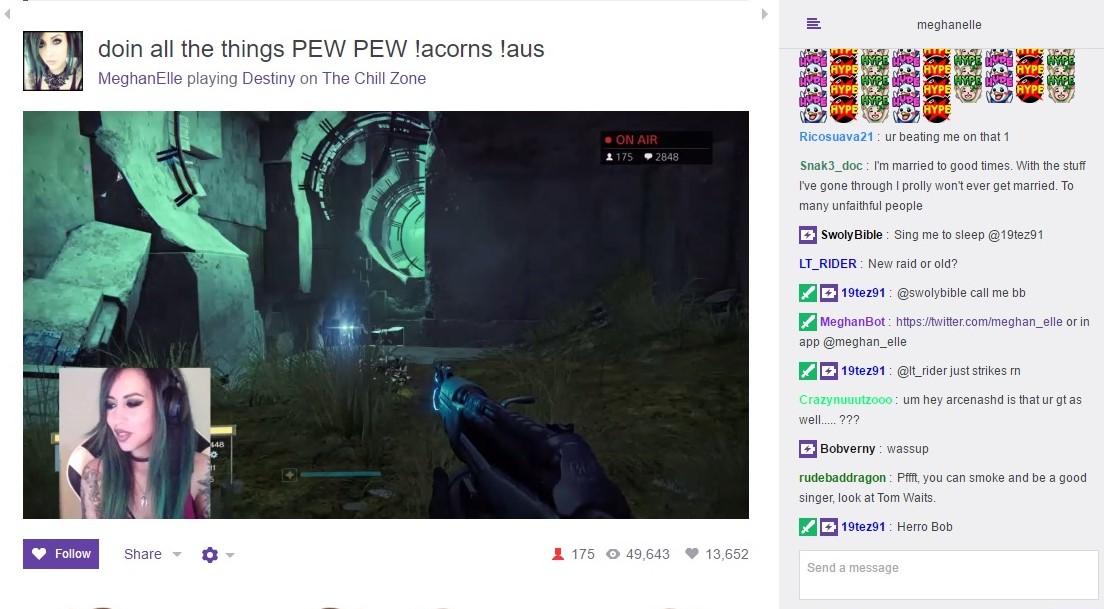 On Sunday, September 25, 2016, I'm chilling in MeghanElle's Twitch channel, which is gaming and has good music.
While feeling a nice vibe, The Chainsmokers' "Don't Let Me Down" is playing–if you l like this kind of music.
"Don't let me down…I need you right now. I'm thinking I'm losing my mind right now," sang MeghanElle.
Other chatters didn't care as though nothing ever mattered.
"@yoboiimario but facecam is bottom left?" Moderator Jodler_0815 responded.
Anyways, MeganElle kept going on about a skeleton key because that's important in the game Destiny.
"I have a skeleton key. I'm saving it," explained MeghanElle.
One chatter saw a scorpion, and he told MeghanElle.
"@meghanelle I saw a baby scorpion today, kinda ran from it," commented ArcenasHD, "@redeyeslayer1981 Westside!"
Even though MeghanElle droned on, she continued to sing songs, which was Foster The People's "Pumped Up Kicks."
"All the other kids with the pumped up kicks," sang MeghanElle.
Eventually, MeghanElle started talking about Myspace since she was "oldschool" and a hipster.
"Where you so far. I'm at 900, " relayed MeghanElle, "That's kind of oldschool. I had a Myspace too!"
Because not much gaming was happening, MeghanElle found the chatters interesting–though I don't know why.
"You guys just chilling here is so awesome. I feel so blessed," a flattered MeghanElle said.
Although some gamers were more focused on the game, MeghanElle laughed at her gamers.
"Apache went flying. That was so funny, " screamed MeghanElle.
However, MeghanElle was fond of one gamer; this is, she loved him/her.
"Snak3_ doc., what's up baby?" inquired MeghanElle.
As the ending of the game approached, Meghan played Kreayshawns' "Bumpin' Bumpin'"–which was kind of dope.
"Hey, can I spend the night at your house? What?…Hello? Can you hear me bitch? Bumpin', bumpin', bumpin', I feel so elegant. I feel so elegant tonight…Fuck it, " the song played.
Gamers said their goodbyes along with moderators; nevertheless, the gaming must go on.
"Night!!!" said Joker_quinn. "Have a good one meg," Moderator Jodler_0815 said.
Finally, MeghanElle hosted DodgeGG, another gamer, and retired to the chat–along with the rest of us.
"Now hosting DodgeGG," posted MeghanElle, "Thank you guys for following. Welcome!" said MeghanElle.