If you have some time during your Covid-19 quarantine isolation, you should check out Marvel Studio's new television series WandaVision. From the looks of it, the first episode "Filmed Before a Live Studio Audience" takes place in the 1950s. That being the case, Wanda, a mutant superhero aka witch, and Vision, an android aka robot, seem to be out of place. Given all this knowledge, there are other bits of things not quite right about this alternate reality. Here's a quick look at WandaVision's episode 1.
Initially, episode 1 takes place in the 1950s. This was the time of the traditional family; that is, a husband, wife, and two children, so no blended, mixed, or divorced families existed- at least in the western world. Also, this was the time of suburban development and the rise of urban sprawl. Further, it was an era of nuclear power development. The 50s signaled a rapid time of growth for the USA, which just came out of World War 2.
That being said, we see Wanda and Vision in a state of transition. To start, they have no kids, which would of been strange for any baby boomers of this era. Also, Vision is a android, but computers at this time needed buildings of space to do simple math calculations. Plus, Wanda is a witch, which would of been a very liberal idea for the 50s. Basically, Wanda and Vision have not yet formed any stable social structures, according to sociologist Max Weber.
Sociologically speaking, "Filmed Before a Live Studio Audience" gets into a little social theory: sameness. In this 50s era, men and women believed in being treated equal. Not only that, this was the decade starting off desegregation in schools. Sameness was on the minds of people in the 50s.
However, by the 60s, people began to be preoccupied with difference. Women started to see themselves different from men; especially, in terms of jobs in society. Also, this era saw the beginning of affirmative action programs. People were becoming aware that they were different in the 60s.
Anyways, this episode, too, finds time to be silly by playing on 1950s sitcoms like The Dick Van Dyke Show and I Love Lucy. As we see in the opening scene, Vision comes home from work in a similar fashion as Dick Van Dyke. Plus, much like in I Love Lucy and the character Lucy, Wanda is a housewife who tends to house work.
Some odd things stand out in "Filmed Before a Live Studio Audience". For one thing, there is no year on the calendar in the kitchen. Also, Vision can't quite remember dates- or anything for that matter. Perhaps, some Mandela effects are going on in this episode, too.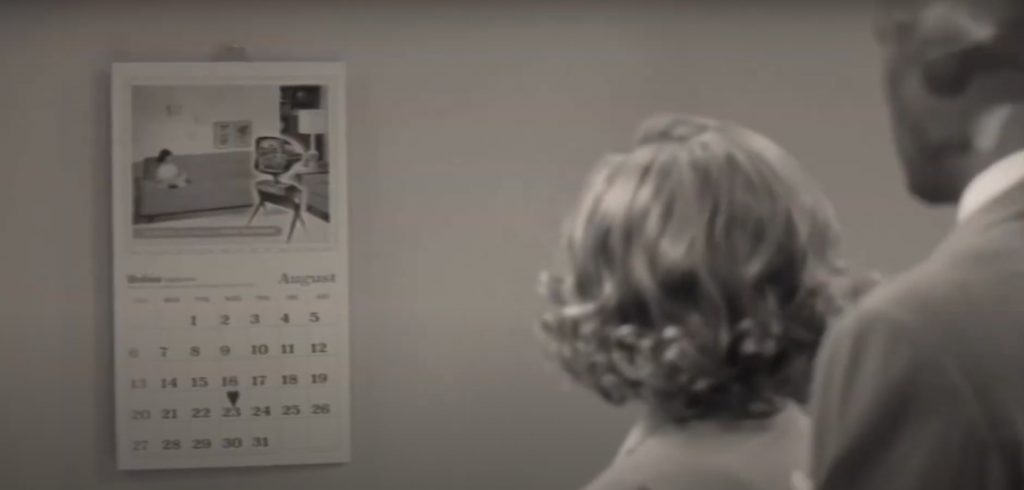 Briefly, this is just an introduction to the first episode of WandaVision. It looks at the 1950s. Also, it plays on themes from popular television shows of the 50s. However, it's a strange episode too, since Wanda and Vision don't quite fit in the 50s. I recommend watching this episode because it touches on some interesting ideas.