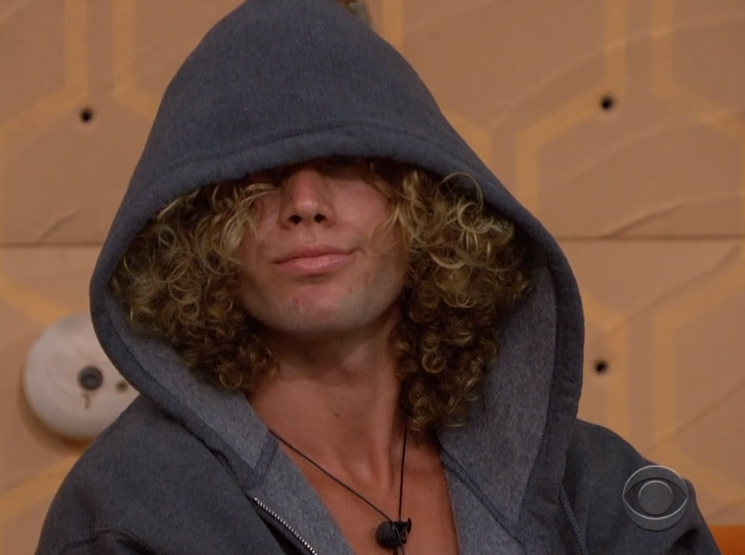 In regards to my take on the game, this is how I saw CBS Big Brother 19 and 20. First, the hacker makes his move. Second, the house is engulfed with drama. As well, we see another player evicted while the hacker remains in play.
To start, this weeks's nomination unsettled Tyler. When nominated, some players saw Tyler shaking. Apparently, he doesn't like the block.
In regards to nominating Tyler, Hailey had her reasons. She saw Tyler as a floater. Moreover, she blames him for doing lots of things behind the scenes.
However, some players want Bayleigh gone. While discussing game play, Angela and Casey have made it known. They want her gone.
Nonetheless, they want Bayleigh to feel safe since it will be easier to evict her. They plan to take Tyler off the block and replace him with Bayleigh.
The house continues to be in the dark about the hacker's identity. However, Hailey, the hacker, wants Tyler gone. She needs to get rid of him in secret.
An OG Big Brother returns to the house during this week. It was Jessie Godders aka Mr. Pectacular, a bodybuilder contestant that played in season 10 and 11. He hosted the POV 'Space Pec' competition.
The POV came down to Scotty and Tyler. Both players really needed this victory. However, Tyler won the POV.
Tyler had a few words for the hacker. Tyler says, 'Hey hacker. Where you at? Let's go!'
Even though Tyler wins, he gives the POV to Angela. Angela wanted it, so Tyler repays the favor for Angela taking him off the block during last week
Meantime, Rachel makes a major screw up about the hacker's identity. She believes it's Bayleigh, and she gives a damaging speech on Bayleigh's character. She ends her speech with 'Bayleigh, your power trip is over'.
On Wednesday night, episode 19 came down to two people on the block: Rockstar and Bayleigh. Level Six wants Bayleigh gone. One player will be evicted.
While Thursday night was live eviction, episode 20 began with high drama. First, Bayleigh freaked out on Tyler for coming at her in the house. Tyler told Bayleigh, 'I am not that person. I am not that way.' Nevertheless, Bayleigh wanted an apology from Tyler.
Nonetheless, the house agrees to evict Bayleigh. They blindside her. Next, they backdoor her.
As the anonymous hacker, Hailey is feeling guilty. Other people are being blamed for her actions; namely, the house thinks Bayleigh is the hacker. That being said, Hailey has a change of heart and reveals she's the hacker.
Strangely, episode 20 had some odd game play. First, Samantha voted to keep Rockstar while going against her alliance. Also, Hailey voted out her best friend, Bayleigh.
Episoden 20 sees it's first jury member: Bayleigh. She was evicted, which put her in the jury house for the remainder of the game. She will help determined the ultimate winner.
As the season rolls on, one more hacker app is left. A new hacker will be picked next week. Anything can happen in the game.
Overall, this week closes with high entertainment. We saw drama. Also, we saw another eviction. It will be interesting to see if next week's hacker mixes up the game.