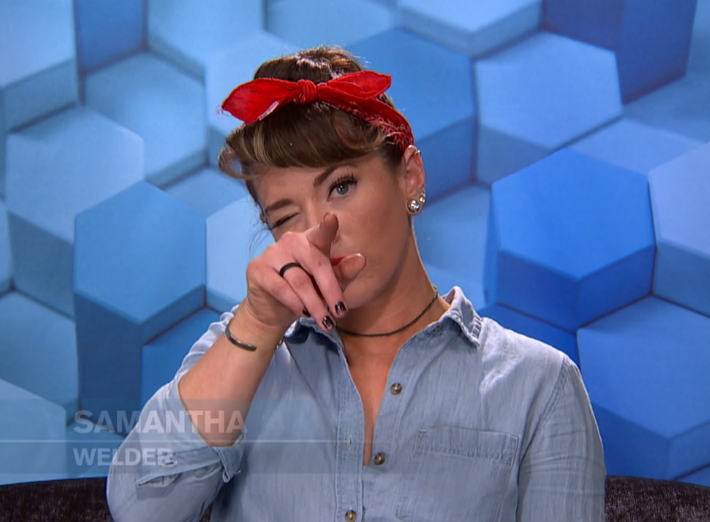 During this last Sunday, I watched Big Brother episode 15, and these players got my attention: Tyler, Samantha, Kaitlyn, Bayleigh, Scotty, and Brett. This blog post is an update on the Big Brother house.
Apparently, Tyler has the gift of gab. He played Kaitlyn lip service before she was evicted. We got to see some of those conversations during this episode.
In this episode, Samantha is looking traditional. She has a new hairstyle, which seems 1950s. Plus, she's expressed traditional views of men and women to match it.
After some thought, I think Samantha is right about real female empowerment. She told the girls, 'You give respect, you get respect.' Throughout the season, the girls have been flirting with the men in hopes of helping their game. Samantha believes women should give respect and earn it.
Players are wondering who never voted out Kaitlyn since that could be a traitor. The house voted out Kaitlyn 9 to 1. Apparently, KC was the traitor; however, he's not telling anyone about his vote. Furthermore, the house blames Scotty.
Bayleigh has won HOH. She moves into her HOH room. Further, she's having meetings on her potential nominations.
Since the last episodes, Tyler remains up to his old tricks in this week. Now, he's got Bayleigh thinking Kaitlyn was his number one; however, she's really his nine or ten, but Tyler and Bayleigh agreed to work together. Tyler continues to fool people.
In my opinion, Bayleigh may of made a mistake. She told Rachel about her secret Power App. Later, she nominated Rachel. However, Rachel on the block could build trust if Bayleigh takes her off with the Power App Identity Theft.
In the nomination ceremony, Bayleigh nominates Brett and Rachel. Although not a surprise, Bayleigh nominates Brett because they never got along in the past. However, it was a surprise for Bayleigh to nominate Rachel because she told Rachel about her secret Power App.
Interestingly, now, Faysal is supporting KC. Perhaps, Faysal didn't care for Hailey who was caressing Tyler's leg. Whatever the reason, Faysal and KC are a team.
In summary, a few players made moves during this week. Tyler continued to coast and feed competitors lines. Bayleigh made moves by nominating Brett and Rachel.