On Saturday, August 8th, 1981, at 2:00 pm, MTV continued it's attack on nation-wide US cable television. They did it by playing videos from Iron Maiden's Killer' 81 album. Not only that, they released new Pat Benatar videos. As well, the hours delivered more strange music. Last but not least, MTV played The Pretenders' "Brass in Pocket," a hit that made the group famous. MTV was storming the airwaves of US cable.
That being said, the second hour of MTV begins with two bands. The group April Wine starts off the line-up with "Just Between You and Me" which was off the Nature of the Beast album. Next, we hear and see Iron Maiden's video "Iron Maiden," which is off the Killers' 81 album. These music videos shift into motion MTV's second hour.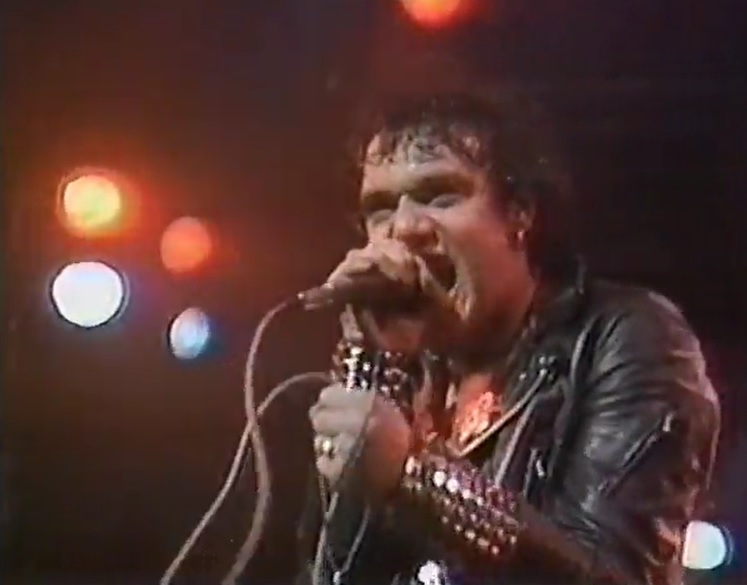 After a few videos, Mark gets into some music news. He calls it "Inside Line," where "we cover music news around the country." Incidentally, this is the first music news program on MTV.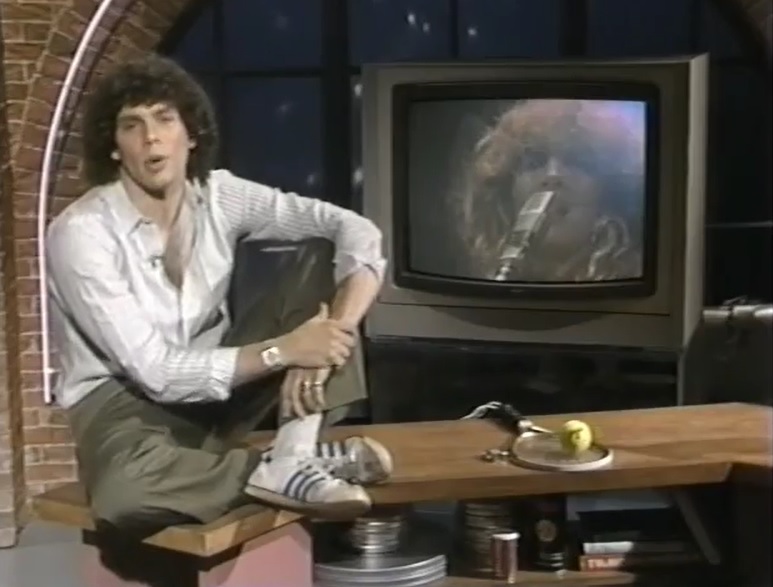 Mark has some strange news for MTV. It tell us viewers "can it be possible that Elvis goes country?" Anyways, he goes saying, "It will be entirely country." This is MTV's idea of "Inside News."
Next, we see some weird commercials, if you watched this for the first time in 2021. Firstly, we learn of a 24 hour movie channel where the commercial says, "All movies 24 hours a day… The movie channel… For more information call your cable tv company." Secondly, there's a montage of clips with the words, "In the beginning," which is supposed to elude to MTV in some strange way.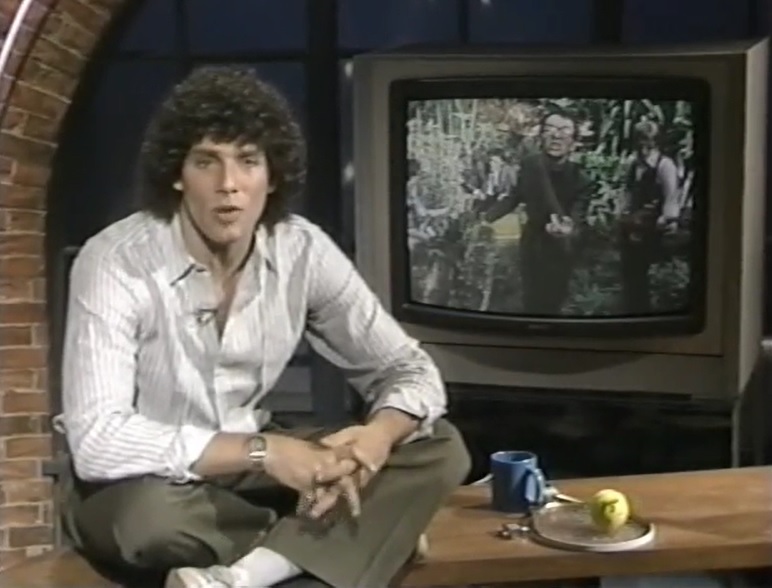 As the second hour of MTV progresses, we see our first repeat video. Its a video from Pat Benatar. The name of the song is "You Better Run." And it's off the Crimes of Passion album. By repeating artists on MTV, this is how MTV made stars of artists, in it's early days.
There are strange videos in the second hour too. Lee Ritenour's "Mr. Briefcase" is a weird video where you see a permed nerd playing a blues steal guitar. On top of that, this nerd signs a music contract and sells his soul to the devil; that is, he probably means record companies are evil corporations. Finally, the lead singer looks like a teacher. Indeed, this was a bizarre video on MTV's second hour.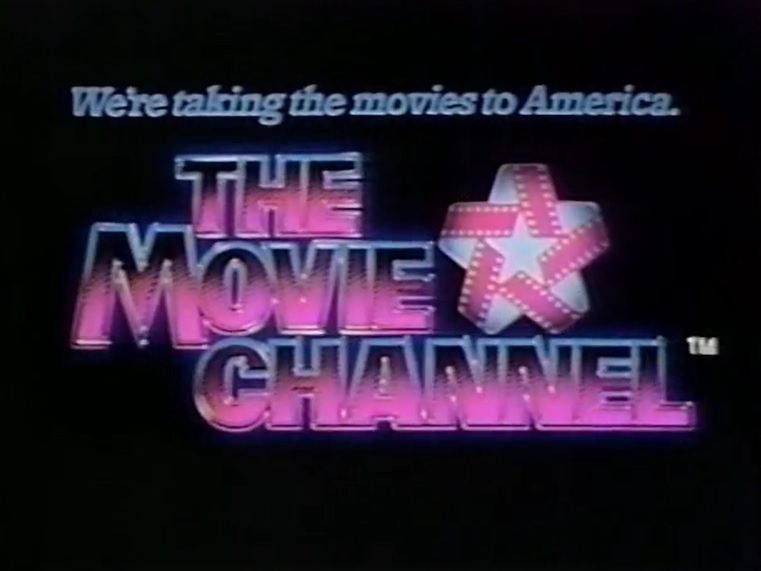 It's the second MTV hour where we meet the VJs. Here they are in order: Mark Goodman, Alan Hunter, Martha Quinn, J.J. Jackson, and Nina Blackwood. These VJs would deliver the latest in music news and concert information on MTV.
In the second hour, there were more odd commercials on MTV. These strange commercials start with a school binder commercial, where MTV plugs a majestic product "The Bulk." Next, there is a bizarre commercial for Superman 2 movie, which nobody can remember. Lastly, we see a random Dolby System commercial for Dolby noise reduction. Of course, these commercials may of not been odd to you, if you lived in the 80s.
During this second hour, MTV takes some time to make some wild claims. Mark Goodman tells us the first claim, saying, "We'll be doing for tv what FM did for radio." Later, MTV explains, saying, "Television used to be called the vast waste land. That was before music television, MTV." These claims make you wonder if MTV was trying to be the savior of television.
A few dark songs were played in the second hour too. The first dark track was by Phil Collin's "In The Air Tonight" which is about someone letting someone die out of revenge. The second was The Whos' "You Better, You Bet" with disturbing lyrics like "You better bet your life. Love will cut you just like a knife." No doubt, MTV had a dark side when it came to some music videos.
Once again, we hear from VJ Mark Goodman at this point. For the third time, he plugs the MTV dial position sticker. Moreover, Mark says, "Put on your stereo where MTV comes in on stereo." Mark trails off this video segment with "Are we on in 15 minutes? This is incredible!"
Toward the end of the second hours, MTV plugs some remaining commercials. They begin with a Mountain Dew commercial, which really sounds like a Coke 70s commercial. As well, MTV seems to have a social conscience when they play a hunger donation commercial. Next, MTV airs a strange interfaith hunger appeal commercial. At the end, MTV tops off the commercials with a REO Speedwagon concert announcement.
Some great music videos ended off the first two hours. We hear Ph.D's "Little Susie Is on the Up". Lastly, it's a UK singer named Cliff Richardson with "We Don't Talk Anymore." This concludes the first two hours of music videos.
MTV ends with The Pretenders, who were the source of some tragic music news too. To end, we hear The Pretenders "Brass in Pocket". Sadly, Peter Farndon, the bass player and vocalist, died after this hit video aired on MTV. As well, James Honeyman-Scott, the band guitarist and songwriter, died too. Nevertheless, Chrissie Hynde endured and continued The Pretenders.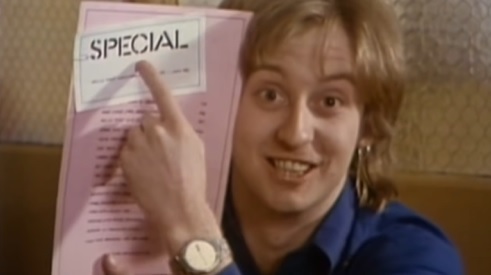 In conclusion, the second hour of MTV was note-worthy on a few notes. A first note being, we got to see new videos by Pat Benatar who later became a huge music star. Another worthy mention was we got to see more weirdness of MTV and it's 80s commercials. On a last special note, we saw MTV make The Pretenders famous; however, by time the group achieved stardom, two founding members had tragically died. These were some worthy highlights of MTV's second hour on US cable television.