I like "Episode 32" because it had drama and great story lines. To begin, we learn and see Mary's exceptional talent for lying. Not only that, Roberta, Grandpa Larkin's young squeeze, drops in at Mary Hartman's house, and she talks about a personality change, which sounds like brainwashing. Finally, George Shumway rots in jail for busting up the local massage parlor. There's lots of drama and great story lines in this segment.
In this episode, it turns out, Mary Hartman is a good liar. Mary smiles and looks Sgt. Foley in the eye, saying, "Oh, it's very good news. Wrong number."
However, Mary turns down the cop who wants her to commit adultary, since she is still married.
"I am not going to whisper or anything else in your ear," Mary tells of Sgt. Foley.
Nevertheless, this cop is a stalker who won't take no for an answer.
"I'll follow you anywhere," Sgt. Foley threatens.
Later, at the Hartman house, Roberta drops in to see Mary. Robert says, "You remodel everything about yourself and you create a new life." Roberta changed her personality.
Roberta has a new job since being fired as Grandpa Larkin's social worker. Robert tells Mary and Sgt. Foley, saying, "As of tonight, I am Lady Fashionetta."
At this point, Tom arrives home.
"This is my house,' Tom yells as he chases Sgt. Foley out of his house.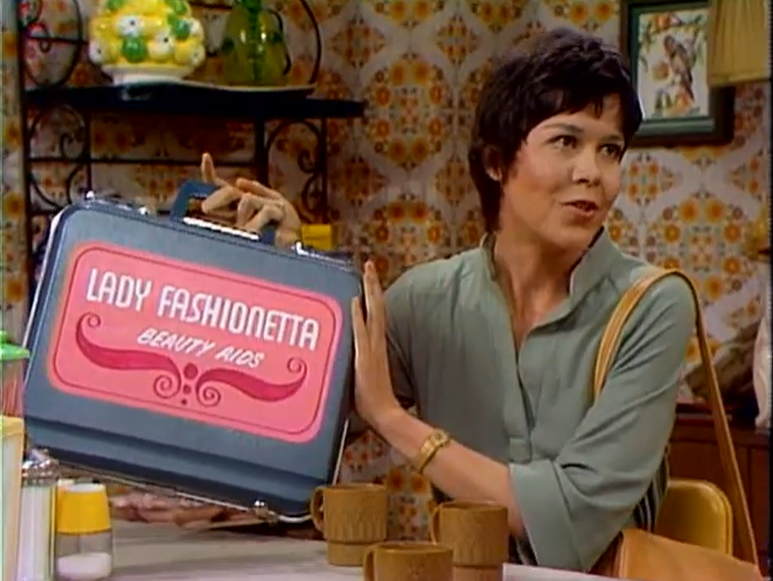 Now, Mary sees a chance to remind Tom of his mortgage.
"Yeah, but only in the mortgage. I wash the floors," as Mary looks at Tom.
Elsewhere, Sal, the local pimp, gets sprung from jail by his lawyer. We learn this fact when a police officer says, "We raided Baglataglia's Massage Parlor, but his lawyer sprang everyone."
Meanwhile, back at the Hartman household, Mary comments on Roberta's personality change.
"And the new you all started after they beat her into a pulp," Mary says about Roberta to Sgt. Foley.
At the jail, George explains his family ain't coming to bail him out.
"Nobody is coming," George confesses to an officer breathing down his neck at the payphone.
The police detective doesn't care because nobody else cares about George. The police officer yells: "Then maybe you ought to see a family relations counsellor, huh? If nobody else in your family cares, why should I?"
Moreover, the cops ain't buying George's story. "That's your story," says a police detective.
Nevertheless, the cops don't care if a pornographer got off while George sits in jail.
"Now you listen to me. Now you let a man go from here a pornographic massage parlor only only because he's got a fancy shyster lawyer," George screams.
In fact, the cops scream defamation when George speaks his mind.
"Better watch that! People sue for slander," a police detective points out.
In brief, this episode had drama. Mary diverted a fight between her husband and Sgt. Foley. As well, Roberta goes through some personal hardships and has a personality change. Lastly, George was released from jail on account of Mary who Sgt. Foley wants to fool around with. Lots of entertainment and drama in this one.