In this issue 7 of the Marauders, Calisto joins the Hellfire Club aka Hellfire Trading Company. As well, we see some old familiar faces too. Lockheed makes a surprise appearance out of nowhere.

In this issue, to begin, Calisto returns. She's still the same, even though she's technically the leader of the Morlocks. She has her black leather vest, pants, eye patch, and leather gloves too. Plus, Calisto has the same attitude, which made her famous.

Moreover, Calisto has joined the Hellfire Club in Marauders 7. Early in this issue, she meets with the White Queen, Emma Frost. Soon, she will meet the rest of the Hellfire members as she takes on a position with the Hellfire Trading Company.

Emma Frost returns in this issue. She's still the White Queen who heads the Hellfire Trading Company. Apparently, she travels with a fashion designer too.

Bishop, a future mutant soldier, returns in this issue, too. Apparantly, the soldier from the future likes beating up present day military. We see him beat up a whole squad.

The Russians appear in this issue. Specifically, a female Russian ambassador, looking to make a deal with the Hellfire Club, wants to buy a piece of technology, which screws up mutant powers.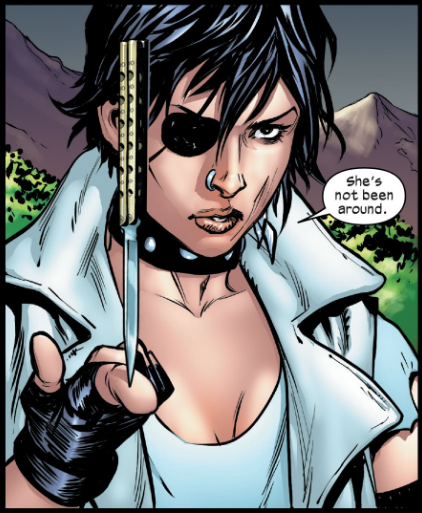 Storm, the past leader of the X-Men and Morlocks, appears in Marauders 7. She has a reunion with her old enemy, Calisto. The two play with knifes. After some tough talk, they hug it out.

Kitty Pride's pet dragon, Lockheed, appears in this issue. In one scene in the comic book, Lockheed turns up in a fisherman's net. It appears he's far away from his home in Balasco's limbo where all most of the X-Men were murdered.
Marauders 7 is a decent read. Not to mention Calisto returns. As well, we get to see some old faces like Bishop, Emma Frost, and Masque. I will be looking for issue 8 of Marauders.