I really like Billie Eilish's "idontwannabeyouanymore" from the Don't Smile At Me 2017 album. In fact, it has become my favorite Billie Eilish song since I heard it. That being said, here's my interpretation of "idontwannabeyouanymore".
To begin, I agree with Biliie Eilish about breaking down. In her lyrics, Billie sings, "Don't be that way. Fall apart twice a day." Essentially, she sings about not wasting your time crying because you can't stop all the bad in the world.
Next, Billie sings about giving up on societal expectations. Here, Billie sings, "Tell the mirror what you know she's heard before. I don't wanna be you anymore." Anyways, when society is messed up, who wants to imitate society's shared values, morals, and norms.
Indeed, collective societal identity doesn't even exist. No one person can embody all these shared values, morals, and norms of society. This collective identity is merely an abstraction and isn't real, so you really can't live up to societal expectations.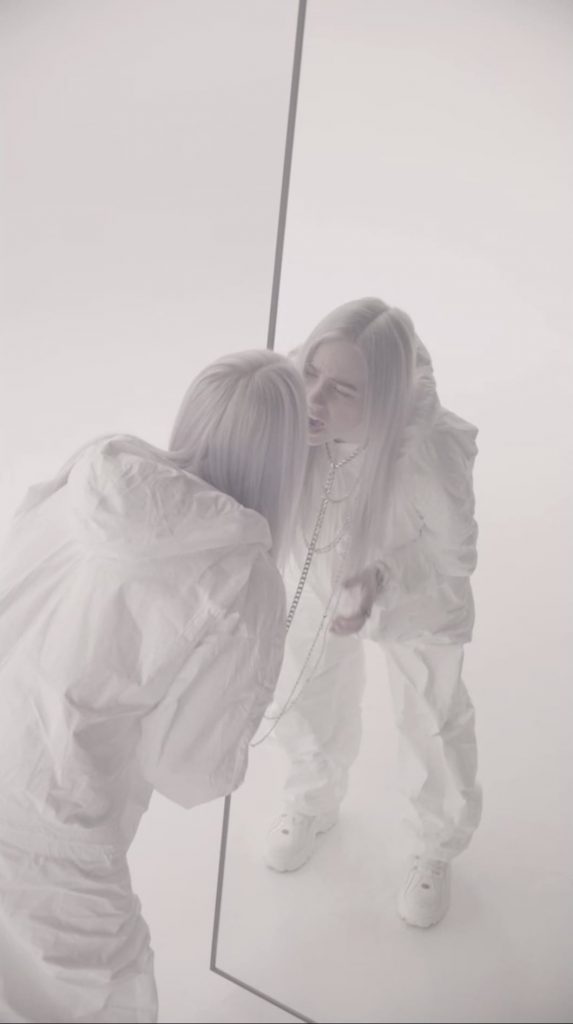 Personally, in a sociological sense, like speaking in terms of theories of self development or the looking glass theory, I want to break the society mirror. The image is not real. Basically, I would feel better if it didn't exist or was broken.
However, in a biblical sense, the mirror could refer to God in Billie's lyrics. After all, people compare God to a mirror, and you can't see God. However, you can imitate God's qualities like love, power, justice, and wisdom. Maybe, Billie doesn't want to imitate God' s qualities, so God could be the mirror in Billie's lyrics when she sings, "Tell the mirror what you know she's heard before. I don't wanna be you anymore."
Indeed, in the past, Billie has referred to God as a female in other songs. For instance, she calls God "her" in her song "All Good Girls Go To Hell" in the When We All Fall Asleep, Where Do We Go? album. God as a "her" for Billie.
Anyways, basically, we all got a short time on earth. Billies understands this fact when she sings, "Hands, hands getting cold. Losing feeling's getting old."
In fact, because of Adam's and Eve's sin, we all die. Billies sings, "Was I made from a broken mold?. Hurt, I can't shake."
In conclusion, I like "idontwannabeyouanymore". It has some good ideas in the lyrics. I'll give it another 10 hours of listening on YouTube.