The Girl With The Dragon Tattoo, a Swedish movie, deals with a hacker and journalist investigating a serial killer in 2009.
To start off, Elizabeth Salander, played by actress Noomi Rapace, is a misfit hacker. She uses her computer to gain unauthorized access to data in a system. She has hacked the various systems: databases, servers, websites, and personal computers. Basically, Elizabeth is a pirate.
Throughout life, she experienced abuse. As a child, he dad abused her and her mother. As an adult, her social worker raped her. Elizabeth has been mistreated her entire life.
That being said, she works at a security company. She researches clients and gathers information about them. Surveillance is part of her vague job description.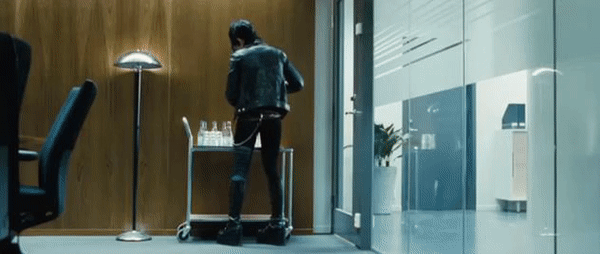 Upon infiltrating computers, she comes across Mickael Blomkvist, played by Mikael Nyqvist, and decides to help him. Mickael Blomkvist, an investigative journalist and publisher of Millennium magazine, needs help solving a murder. Elizabeth puts her "research skills" to work: she hacks computers and solves murders with the writer.
Eventually, Elizabeth gets a chance for revenge. First, she executes revenge against a sadist government worker. Second, she kills a serial killer who has been killing woman throughout the years. She retaliates against abusers.
However, Mickael goes to jail after failing to expose Hans-Erik Wennerström. When researching this past story of drugs and human trafficking, he's charged with libel which is slander and defamation. The charges catch up, and he does his time.
In the end, secretly, Elizabeth raids Wennerström's account of billions of dollars. She disguises herself and goes to the Cayman Islands to launder the money. Though police suspect a young woman caught on CCTV of the theft, she is never caught by police. The movie ends with a smartly dressed woman walking along a beach.
Overall, I enjoyed the Swedish version of the movie. To me, the characters had more flesh on them. The story had more development in my opinion. The Swedish version just seemed higher quality.