During Wednesday's Big Brother, episode 37 had a surprise eviction. Meanwhile, JC finally wins something.
This week, the POV was not used by Casey. That being said, Samantha and JC are on the block. Moreover, Level Six wants one evicted; that way, Tyler, Angela, and Casey can be the final three.
Because of all the press about Julie Chan's husband, Big Brother fans wondered if she would appear tonight on Big Brother. As Wednesday's episode began, Julie Chan Moonves appeared and said, "Whose dream of winning it all will come to an end?"
Casey won POV. It was titled "Your Mazes Are Numbered". She had a close call with Tyler in second.
The game continues to take it's toll on Tyler. He tells us from the Diary Room, "That means I have to back stab some of the best people. That means I have back stab some of the people. It sucks to choose between your friends."
This week, Big Brother had a surprise eviction on Wednesday. It was Samantha. She will become the seventh member of the jury house.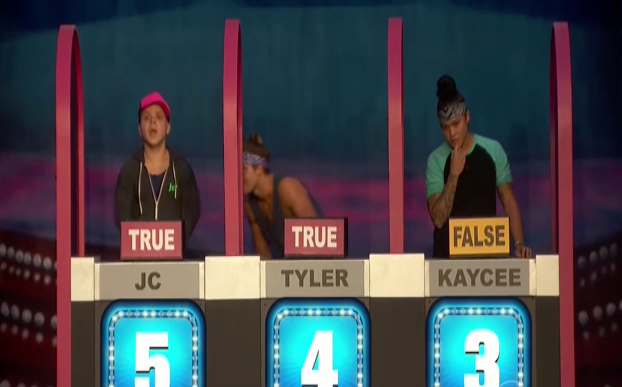 When leaving the house, Samantha was worried about the fish. She told the remaining guests, "Please feed the fish. I don't want them to die." Samantha was not prepared for Wednesday's surprise eviction.
After leaving the house, Samantha explained her stay to Julie. Sam said, "I am very different. I was not prepared for this experience… It's been phenomenol. Radical!"
Finally, JC wins HOH. That being said, he's guaranteed a spot in the final 3. Further, he will be guaranteed a spot to play in the final HOH of the season.
Although a powerful alliance, JC put an end to Level Six. The alliance had a good run. Level Six made it to the final four.
JC will probably nominate Angela and Casey. These players put him on the block in the past. I guess, we'll see Thursday.
Briefly, I enjoyed episode 37. Although Samantha was evicted, she was a good sport about it. Also, it was good to see JC win.