Even though the CBS Big Brother house caught fire, we learned some crazy things about the players during episodes 25 and 26. First, Zingbot's zingers were on point in regards to house guests. Also, Faysal just realized Samantha is psycho. Plus, Tyler discussed his "ideal" final 2, which didn't include Angela.
To begin, Zingbot returned to the BB house. Of course, he wasted no time in roasting Angela, "People say robots are heartless, emotionless and soulless. Did I say robots. I meant Angela."
Furthermore, Zingbot asked the house guests "Miss me losers?" as he delivered an insult. He told Brett, "Brett, you always seem so fresh and clean, which makes sense because you're a giant douche."
Moreover, Zingbot nicely roasted Faysal. The robot said, "Fessy, I was surprised to learn you're a part-time teacher considering you're a full-time moron. Every child left behind."
Meanwhile, Brett won POV. Immediately, he took himself off the block. That being said, Faysal put up Casey in Brett's place.
On a crazy note, Faysal found out about Samantha in regards to nominating players. He told viewers, "Who wee. I didn't see this one coming. Wow! That is a curve ball, Samantha. You want me to risk sending my girl home. Zingbot hit it right on the head, Samantha. That girl is crazy." Samantha added, "Tomorrow, you will put her up. Don't think about it. Do it."
This week, Scotty lost his mind. First, Scotty threw Haleigh under the bus when he called her "Kaitlyn 2.0". Next, he threw Samantha under the bus at the POV meeting. In the end, Scotty stirred up lots of drama in the house.
During eviction day, Tyler discussed his "ideal" final two. He said, "My ideal final two would be Casey. Cause I feel I can beat Casey over JC." If things work out, he hopes for a final two with Casey.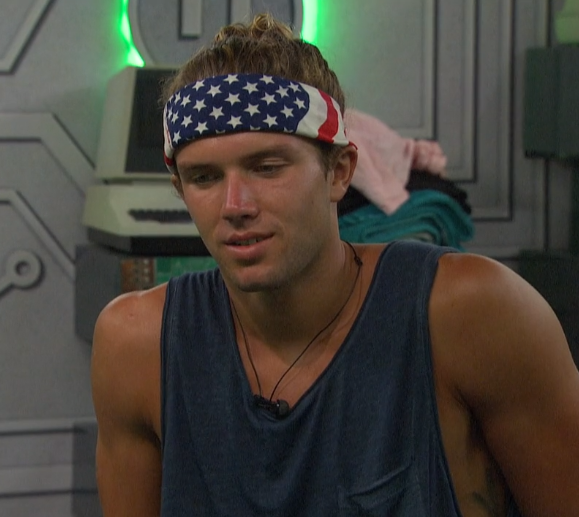 Also, Tyler discussed his strategy about dealing with Level Six.
"I need people feeling confident because then they are going to want to keep me in the game. That's why I have all these final two's. So this next HOH is kind of crucial that I don't win. So I don't have to take shots at these people I have deals with. I am just going to let them take shots at each other, and hopefully they don't catch on," confided Tyler.
Interestingly, Julie Chan made a good point about the remaining game play. As Julie smiled to millions of live viewers, she reported, "As the numbers dwindle, Level Six will be forced to turn on each other. But who in the alliance will strike first?" The game is beginning to resemble a Stephen King movie "The Running Man".
At eviction, Scotty was evicted. The house voted him out by a vote of 6 to 0. He's a jury member, now.
As the eviction ended, Julie announced a jury member will return to the game. However, the jury member must play "Jury Back Battle" to return to the games. This jury battle will include Scotty, Bayleigh, Rockstar, and next week's evictee.
To sum up, these episodes were pure entertainment. Zingbot roasted the house. Samantha acted crazy, which was entertaining. And Tyler revealed his ideal final two. That being said, Samantha saved the house guests from burning up.